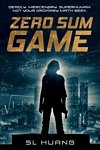 I'm the author of the Russell's Attic series, contemporary science fiction thrillers about a mercenary heroine whose superpower is doing math really, really fast.  Four books are out so far: Zero Sum Game, Half Life, Root of Unity, and Plastic Smile. The fifth book, Golden Mean, is already written and in editing, and will be out sometime in 2017.
There are also two short stories in the Russell's Attic universe, released in 2015: "Rio Adopts a Puppy" and "Ladies' Day Out."  Both can be purchased from retailers but are also free to mailing list subscribers.
I write other things, too!  Check out my short fiction page for more.
QUICK LINKS
If you like novels better or want action-y fast-paced SFF, I recommend starting with Zero Sum Game.  If you prefer quieter or idea-based SFF, check out my short stories.
Note: This website is currently undergoing a redesign (January 2017). I will be striving for maximum uptime but please forgive any temporary hiccups.