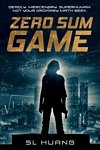 I'm the author of the Russell's Attic series, contemporary science fiction thrillers about a mercenary heroine whose superpower is doing math really, really fast.  Two books are out so far: Zero Sum Game and Half Life.  The third book, Root of Unity, will (hopefully!) be available in late 2015.  The fourth book is about 1/4 of the way complete.
There will also be two short stories released in 2015, "Rio Adopts a Puppy" and "Ladies' Day Out."  Both will be free to mailing list subscribers.
I write other things too!  My first short story, "Hunting Monsters," is available to read now at the Book Smugglers!
QUICK LINKS