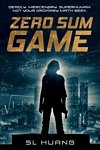 I'm the author of the Russell's Attic series, contemporary science fiction thrillers about a mercenary heroine whose superpower is doing math really, really fast.  Three books are out so far: Zero Sum Game, Half Life,  and Root of Unity. The fourth book, Plastic Smile, is written and in editing, and I'm about 1/3 of the way through writing the fifth book, Golden Mean.
There are also two short stories in the Russell's Attic universe, released in 2015: "Rio Adopts a Puppy" and "Ladies' Day Out."  Both can be purchased from retailers but are also free to mailing list subscribers.
I write other things, too!  Check out my short fiction page for more.
QUICK LINKS
I'm on Twitter as @sl_huang.
If you're looking for a list of my fiction:

Go to "Books" for items available for-purchase from retailers, with covers and descriptions
Go to "Free Stories" for short stories free to read online
Go to "Full Bibliography" for a list of everything, organized by series.
If you like novels better or want action-y fast-paced SFF, I recommend starting with Zero Sum Game.  If you prefer quieter or idea-based SFF, check out my short stories.