First of all, I want to thank everybody for the incredibly kind words on my post yesterday.  I'm very touched!  Meanwhile, I am still running Why/Why Not—albeit a little less often—and I am pleased as punch to have the compassionate and funny Leslie G. Nelson here today with her lighthearted nonfiction short, Everything I Needed to Know About Parenting I Learned in Prison.  A former correctional officer, Leslie takes you inside the prison and teaches how count time, riots, and inmate games can help you be a better parent!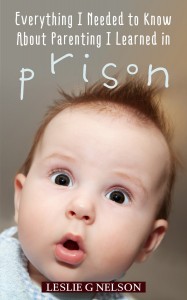 Why was this a book you needed to write, or only you could write?
Leslie G. Nelson: I think I needed to write this book because I am the only one crazy enough to do it.  Who else would think connections could be drawn between parenting and working in prison?
The idea first started as I was pondering one day things that I had learned while working in prison that influenced my parenting.  The more I thought about it the more connections I could draw. That was the beginning.
What parts of the premise, plot, or characters speak to who you are as a person, your life experiences, or the things you want to see more of in books?
For better or worse, the whole book speaks to who I am as a person because I share experiences I had working as a correctional officer, and some of my less-than-stellar parenting moments like when I dropped off my fourteen year old daughter at a stranger's house on accident.  Yikes!
I chose to be a vulnerable in this book because I so appreciate this quality in others.  I think vulnerability and authenticity are the greatest gifts we can share with one another.
Why was this a book that you couldn't write—why did it force you to grow as an author? What terrified you along the way? What parts of it stretched you, made you think, made you research? What parts were you most afraid of getting wrong?
The main thing that terrified me was a fear of giving advice: particularly about parenting.  I didn't want to "get it wrong", but more importantly I didn't want to cause any discomfort to a parent who might be struggling with a difficult child.  There is no one-size-fits all solution to parenting.  And as I mention at the end of my book sometimes you can do everything right and still things go horribly wrong.
I hope that my book will be entertaining, but if parents find some new ideas they want to try that would be great too.  Mostly, I want to give encouragement to those who are engaged in the toughest, but most rewarding job of all: parenting.
Give us an excerpt from Everything I Needed to Know About Parenting I Learned in Prison:

"Unless you do something deliberately to change it, you will become the same kind of parent that your parents are." Years ago, a wise high school teacher said these words and it has changed my life.

I started thinking: What kind of parent did I want to be? What did I like about my parents' methods? What would I like to do differently? I began to study parents and children. I watched them in the grocery stores and department stores. I watch them still.

As I was forming some ideas about parenting, my "training" took an unexpected turn. I started working as a corrections officer in a men's prison. First, I want you to understand that I am not the "stereotypical" female prison guard, whatever that may be for you. Let's just say that when I got the job my friends teased me about being a female Barney Fife! So how did a naïve small-town girl like me end up working in prison?

Well, I was at one of those crossroads in life and my wheels were spinning. I was twenty-two. I had recently returned from an LDS (Mormon) mission and I was working as a cashier in a mom-and-pop grocery store, which equaled "no future." I didn't have a car or any prospects. I needed a change, but what? Then my old friend and roommate, Charice Hunt, called and
said, "They're hiring here! Come join me!"

"Ummm, no thanks. You work in prison. I could never do that!"

She laughed. "Don't worry, its just like babysitting grown men."

Sure, whatever you say, I thought. But she was right! So began what could be called the world's most unique parenting training course. You may be skeptical. How could being a correctional officer train someone for parenting? I know it sounds crazy, but there are some techniques for dealing with inmates that translate nicely to parenting. By the time I traded my uniform and badge for maternity clothes, I had changed, and the influence has carried over into the way I parent.

My husband and I have five children now. I don't claim to be an expert on parenting. I am still learning, and my ideas are still changing. That is how it should be. Parenting is not just about how we shape the children we have been blessed with, but how they shape and change us as well.
Finally, give us a funny or unusual piece of trivia about yourself.
Besides my family, and my writing, my other love is the theater.  I love musicals. My favorites are Les Miserables, Man of La Mancha and Fiddler on the Roof.  I enjoy watching plays, but I am most happy when I can be on stage.
The biggest trouble with my acting future is that I sing tenor.  There are not many roles for a female tenor. My dream roles: Don Quixote, or Tevya, are not likely to happen!
Recently I had the privilege of being in a production of Fiddler on the Roof.  I had a small part, Shandel, Motel's mother.  But my oldest son was in the play also. He had a lead role: Motel.  So even though I didn't get my dream role, it was really fun playing the part of my son's mother on stage.
Thank you so much, Leslie!  Everything I Needed to Know About Parenting I Learned in Prison is available here through Amazon and here through Smashwords.
In addition to raising five children with her husband, Leslie G. Nelson works full-time.  The number one item on her bucket list is "get some sleep." 
Blog: Leslie's Illusions
Twitter: @lesliesillusion
Facebook: http://facebook.com/lesliesillusions
Google+ : http://plus.google.com/117154218924559261641