For the second installment of the Why/Why Not series (if you're interested in participating, read more here!), please welcome Melinda Moore, author of the paranormal romance novella A Sunset Finish. A Japanese-American woman struggling with depression moves to Albuquerque as a last resort for her music career . . . and must decide whether to give in to a ghostly possession or reclaim her life.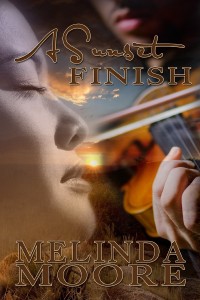 Melinda Moore:
Hello! I'd like to give SL Huang a big thanks for allowing me the opportunity to talk about my new novella A Sunset Finish on her blog. It was a different process for me than most of my stories take, and I hope you find it as interesting as I did.
Why was this a book you needed to write?
I needed to expand myself as a writer from lighthearted and action oriented stories to more serious stories. I'm still trying to find my voice, though I think every story takes on its own voice. I tried to make the words in A Sunset Finish flow together like music since music is important to both main characters. As far as the themes of the book go, I wanted to address the issue that depression and cutting don't go away fast and are often a life long problem for the person who has them. I'm not depressed myself, but I've known people who are, even to the extreme of taking their own life. I wanted a story that showed how depression is on a day to day basis but also ended in hope.
What parts of the premise, plot, or characters speak to who you are as a person, your life experiences, or the things you want to see more of in fiction?
The beginning of the story when Stephanie's violin cracks apart is straight from my life, except I'm a bass player. I've lived in Albuquerque since I was born, which is a very dry climate, and my bass had been here for years. I never suspected it would split like an instrument coming here from a humid climate sometimes does. The sound was thunderous and the event, devastating. When my professor found out what had happened he said, "I'd hide under my desk for a week if that happened to me."
The music in the story was also really important to me. I have a degree in music education. My main emphasis in college and when I was teaching was multicultural music. Of course, people can't hear the soundtrack in their head that I heard when I was writing the story, but I hope a glimmer of the mingling of Japanese songs and Pueblo songs along with hard rock comes through to readers.
What parts of the story stretched you, made you think, made you research?
Although I grew up in New Mexico, I didn't spend a lot of time on the reservations. I had seen dances and knew a few things about the ceremonies of Pueblo Indians, but not nearly enough to make it a focal point of the book without doing research. In addition to reading about the ceremonies, I read about the Pueblo Revolt much more extensively than I ever did as a student. I'm hoping to go back and write a prequel to A Sunset Finish set during the Pueblo Revolt. I also had to research Taoism for the protagonist's religion, and I feel like I still haven't touched the surface of it. I plan on doing more for another book I'm writing about a concubine in ancient China. It's great doing research because ideas keep leading to new stories.
What parts were you most afraid of getting wrong?
I worried the characters wouldn't be authentic to the reader. I'm an outsider looking in on the religions no matter how much research I do. But I didn't want that to scare me away. Gazing on the Sandia Mountains everyday and seeing the fiery pink they change to at sunset is inspirational. When it occurred to me to have a society living in the sunset on the mountainside, I thought it would be ridiculous to have it be any race other than Native American since the mountain is sacred to them. The inspiration for Stephanie's character came from living next to Japanese immigrants as a small child. I always wondered why they, and anyone not born here, would choose New Mexico out of all the places in the world to live. Stephanie seemed the perfect character to experience NM for the first time.
Give us an excerpt from A Sunset Finish:
The desert sun blazed as if it wanted to leech the moisture out of every yucca, cactus, and adobe brick to create a sand painting for its living room. Standing before the pueblo-style instrument repair shop, Stephanie considered offering herself to the sun as part of the picture. The arid air had already rendered her violin mute at her first rehearsal with the New Mexico Symphony, and becoming a sand painting would be a more artistic end than the bottle of sleeping pills back at her apartment—or slicing her wrist open. She looked down at the bandage that covered the half-finished yin-yang she had pricked into her skin last night in her despair.

The door to the shop opened from the inside, and a ray of sunset-hued light shot out accompanied by the strains of an unusual quartet of instruments: a violin, drum, flute, and guitar.

An older Hispanic woman stepped out of the shop, patting her eyes with a handkerchief. "Stephanie! I'm so glad you brought your violin here." It was Marie, her stand partner who had recommended the shop, though Stephanie didn't notice until the door closed on the strange lights and sound.

"What was that?" she asked.

Marie put her handkerchief in a large, black purse that matched her shoes and pantsuit. "What was what?"

"The pink lights and music. Are they doing a show in there?" Stephanie walked past Marie, whose jaw dropped.

"You hear them?" she whispered.

Stephanie pulled open the door and blinked against the glare. As her eyes adjusted she saw, several yards in, a violin, guitar, Native American drum, and Native American flute on top of a glass case, glowing and playing music of their own accord. A bittersweet melody in a minor key slipped into her ears and filled her vision as if the song painted the sunset. As the notes flowed, parts of the color darkened into orange shapes of people dancing. The silhouettes popped into relief; feathers in their hair swung up and down with their heads, and pine needles flapped in time around their arms. Gourds rattled and a distant-sounding chorus chanted.

"What do you see?" whispered Marie in Stephanie's ear.

Behind the glowing instruments stood a woman who looked real and a woman consisting of coral smoke—beautiful like a Monet painting. The smoky woman expanded as if surprised when Stephanie looked at her, and then she beckoned to Stephanie, holding her hands above the violin like she wished Stephanie to take it.

"Stephanie," said Marie in a louder voice, "do you see something?"

"She wants me to play it."

"Play what?"

"That ghostly woman wants me to play the violin." The part of Stephanie's brain that would question everything happening was blocked. The milieu before her was an invitation to a world of melancholy and beauty, and the glowing violin was her ticket. It never occurred to her to ask the price.
Finally, tell us a funny or unusual piece of trivia about yourself:
I gave the hero the name Bruce, and in his backstory that never comes out in the book I decided his parents named him after the lead singer for Iron Maiden Bruce Dickinson. This is ironic because when I was 10, I was not so fond of Iron Maiden.  The t-shirts terrified me. My brother was babysitting me one day with one of his friends and they turned on an Iron Maiden album. As soon as the first chord reverberated throughout the room, I jumped up and ran out with my hands over my ears yelling "Devil music!" at the top of my lungs. I have since changed my mind about Iron Maiden. I've even seen them in concert, but Eddie still scares me :)
Thank you so much, Melinda!  A Sunset Finish is available at:
Amazon
Barnes and Noble
Jupiter Gardens
Smashwords
Coffee Time Romance
All Romance Ebooks
Melinda Moore lives in Albuquerque, NM: The Land of Enchantment. Possessing a love of adventure, she has been a dancer, professional musician, music educator, recipe creator, parent and now published author. She gives away designer coffee on her blog as well as running a monthly writing contest based on photographs. Check out her current thoughts and all the goodies at www.enchantedspark.com.