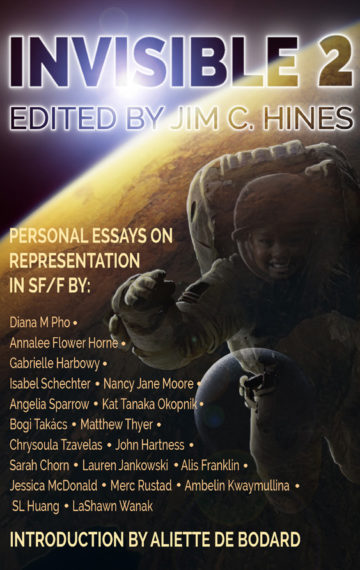 2.99
Available in:

EPUB, MOBI

Published:

May 15, 2015
Amazon
Barnes & Noble
Kobo
For this nonfiction essay collection, I contributed an essay called, "Nobody's Sidekick: Intersectionality in Protagonists." This essay is free to read online, but this volume contains many other voices — and benefits a good cause!

Full blurb and essay list below.
19 essays on the importance of representation in science fiction and fantasy, with an introduction by author Aliette de Bodard. Proceeds from the sale of this collection go to the Carl Brandon Society to support Con or Bust.
Full table of contents:
Introduction, by Aliette de Bodard
"Breaking Mirrors," by Diana M. Pho
"I'm Not Broken," by Annalee Flower Horne
"Next Year in Jerusalem," by Gabrielle Harbowy
"I am Not Hispanic, I am Puerto Rican," by Isabel Schechter
"No More Dried Up Spinsters," by Nancy Jane Moore
"False Expectations," by Matthew Thyer
"Text, Subtext, and Pieced-Together Lives," by Angelia Sparrow
"Parenting as a Fan of Color," by Kat Tanaka Okopnik
"Alien of Extraordinary Ability? by Bogi Takács
"Accidental Representation," by Chrysoula Tzavelas
"Discovering the Other," by John Hartness
"Lost in the Margins," by Sarah Chorn
"Too Niche," by Lauren Jankowski
"Fat Chicks in SFF," by Alis Franklin
"Not Your Mystical Indian," by Jessica McDonald
"Exponentially Hoping," by Merc Rustad
"Colonialism, Land, and Speculative Fiction: An Indigenous Perspective," by Ambelin Kwaymullina
"Nobody's Sidekick: Intersectionality in Protagonists," by SL Huang
"The Danger of the False Narrative," by LaShawn Wanak
Afterword, by Jim C. Hines
Reading List