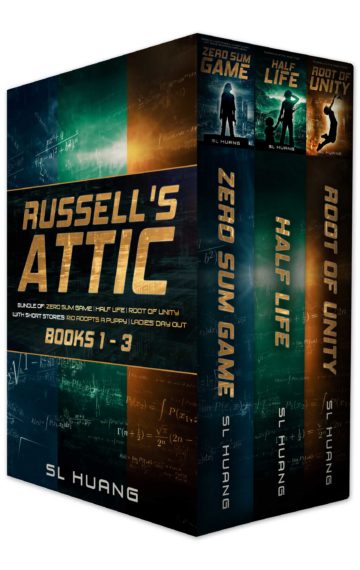 9.99
Available in:

EPUB, MOBI

Published:

June 8, 2016
Amazon
Barnes & Noble
Apple
DEADLY. MERCENARY. SUPERHUMAN.
…NOT YOUR ORDINARY MATH GEEK.
Praise for Books in this Bundle
"[T]his.  Book.  Is.  Awesome.  Maths and guns. Mysterious superpowers. Deadly conspiracies and explosions. Questions of morality. PoC characters. Telepathy, badassery AND an unreliable narrator who knows she might be unreliable. […] Can I say 'awesome' one more time or are you already tired of hearing it?" — The Book Smugglers, on Zero Sum Game
"It's an absolutely cracking read. […] The sequel can't come a day too soon." — Heroines of Fantasy, on Zero Sum Game
"Simply put, I think Zero Sum Game is one of the most entertaining books I have read in a long while.  It's like a rush of adrenaline in word form." — The World in the Satin Bag, on Zero Sum Game
"It's fast, it's fun, it's great light entertainment, and I want to read the next one. Soon." — Liz Bourke at Tor.com, on Half Life
"I've been a huge fan of this series from the beginning…" — Strange Charm Books, on Root of Unity
"Huang has really stepped up her game in this book." — James Davis Nicoll, on Root of Unity
---
The vector calculus blazing through Cas Russell's head lets her smash through men twice her size and dodge every bullet in a gunfight. In the first three books of her action-packed adventures, Cas faces opponents as powerful as telepaths and as unstoppable as mobsters. She's not the only person in the world with a superpower or the technology to mimic one — but how many can claim a mastery of the whole numerical world as their battle skill? Adrenaline, snark, and science fiction combine into a noir superhero thriller.
This bundle contains the first three books, as well as two additional bonus short stories.
BOOK 1 – ZERO SUM GAME
Going up against a psychic with a god complex isn't exactly a rational move, but Cas isn't about to let anyone get away with violating her brain. Besides, she's got a small arsenal and some deadly mathematics on her side. There's only one problem . . . she doesn't know which of her thoughts are her own anymore.
BOOK 2 – HALF LIFE
Cas knows she isn't saving a child. She's only stealing a piece of technology that looks like one, and it's expensive and high-stakes enough for innocent people to have been killed over it. But Cas has a distraught father on one hand and a robot programmed to act like a distraught daughter on the other, and she's never been able to sit by when a kid is in trouble — even a fake one.
BOOK 3 – ROOT OF UNITY
When Cas agrees to find a professor's stolen proof, she's immediately ducking car bombs and men with AKs — this is the type of math people are willing to kill for, and the U.S. government wants it as much as the bad guys do. But all that pales compared to what Cas learns when she starts to unravel the mathematics. Because the more she works on the case, the more she realizes something is very, very wrong . . . with her.
Bonus material: Short story – RIO ADOPTS A PUPPY
A puppy appears on Rio's doorstep. Fortunately, Rio is fully aware he's a sadistic psychopath utterly lacking in empathy, and thus does not hurt the puppy. But he also doesn't know what to do with it.
Bonus material: Short story – LADIES' DAY OUT
Cas teaches Pilar to shoot. Considering Cas is an acerbic mercenary and Pilar is a delightful admin, this goes about how you'd expect.
If you've finished off the bundle, check out book four to see Cas Russell's adventures continue.