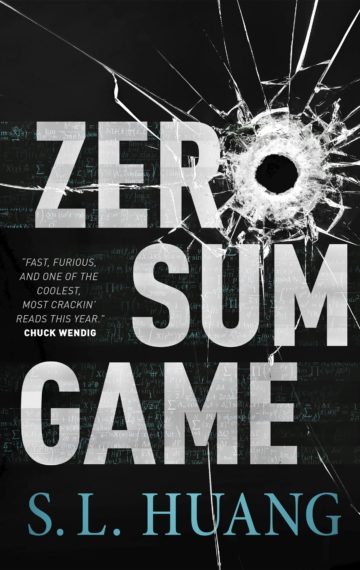 Start here!
Available in:

Hardcover, Ebook

Available:

October 2, 2018
See All Buy Links
Book One of the Cas Russell series
"This book lines up like a perfect, elegant equation ― it's fast, furious, and adds up to one of the coolest, most crackin' reads this year. "― Chuck Wendig, NYT bestselling author of Invasive and Star Wars: Aftermath
"The smartest and thrillingest book you'll read all year." ―Ken Liu, author of The Grace of Kings and The Paper Menagerie and Other Stories
"Paced at a flat out sprint, Zero Sum Game deploys an astonishing array of weapons together with the prickly charms of its math genius protagonist on her turbulent journey toward trust and connection." ―Kate Elliott
Cas Russell is the geek's Jack Reacher… ZERO SUM GAME is a smart, accessible sf thriller with blockbuster appeal.
Cas Russell is good at math. Scary good. The vector calculus blazing through her head lets her smash through armed men twice her size and dodge every bullet in a gunfight, and she'll take any job for the right price.
As far as Cas knows, she's the only person around with a superpower…until she discovers someone with a power even more dangerous than her own. Someone who can reach directly into people's minds and twist their brains into Moebius strips. Someone intent on becoming the world's puppet master.
Cas should run, like she usually does, but for once she's involved. There's only one problem…
She doesn't know which of her thoughts are her own anymore.