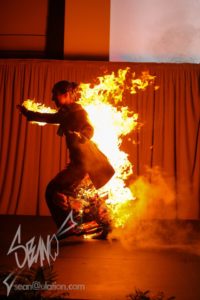 For the serious bios, see my press kit.
I like durian, explosions, and the abelian grape joke. That tells you almost everything right there.
I've been lit on fire 4 times. Three of those were on purpose.
My favorite math textbook is Munkres' Topology. It's just. So. Pretty. (But Apostol, Enderton, and Sipser are up there, too.)
My favorite handgun is a good Belgian-made Browning Hi-Power in nine-millimeter.
When volunteering as part of a field research team in Costa Rica, I once got a scorpion in my mattress. I had to chase it down and trap it. In the dark. With my retainer case.
One summer in college, I taught computer science at Zhejiang University and the Dalian Institute of Technology in China. Then I backpacked across the country and ended up hiking the Tibetan plateau and sleeping in a tent with baby yak.
My first kiss was for a stage production.
I can speak Spanish about 2/3 fluently (but I'm rusty), Mandarin badly, and Japanese conversationally. I also once mainlined Italian and got conversational and then forgot it all again in the space of six months.
I have weird mutant monkey toes that let me to do a toe climb in aerial circus without ever practicing.
Past stage roles include playing a tap-dancing stormtrooper and a flamenco-dancing Jawa.
There's a Wikipedia article that refers to me as a world-famous swordmistress.
I've worked with a fair number of movie stars, but I was never more starstruck than when I got to meet Andrew Wiles.
I am part of the Queer Asian SFF Illuminati.