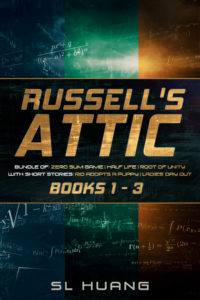 Eventually this page will have a flow chart. Because who doesn't love flow charts?
Originally, the Cas Russell series (formerly the Russell's Attic series, but nobody likes my math puns except me) consisted of these books, with more on the way:
Novels: Zero Sum Game, Half Life, Root of Unity, Plastic Smile
Companion Short Stories: Rio Adopts a Puppy, Ladies' Day Out
Then Tor picked it up for a re-release! Yay! Therefore, what's available right now is:
In other words, right now you can buy the new Book 1, and you can also still buy the companion short stories, but you can't buy any of the other books… for a while. But when they do come out again, they will be EVEN BETTER than before!
More to come…