All of these pieces are available for free online.
I have two types of free short stories available: the Russell's Attic interstitial stories, which are free to mailing list subscribers, and non-Russell's Attic published short fiction that is free to read on the web.
This page is only for stories freely available online. You can see the books and stories available for purchase in the library, or my text bibliography for the most comprehensive list.
The Russell's Attic Interstitials
These are companions to the Russell's Attic book series. Subscribing to my mailing list gets you a password to read them for free! A few weeks after the online release they also become available to purchase cheaply from all retailers.
---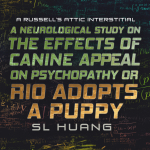 "Rio Adopts a Puppy"
A puppy appears on Rio's doorstep. Fortunately, Rio is fully aware he's a sadistic psychopath utterly lacking in empathy, and thus does not hurt the puppy. But he also doesn't know what to do with it.
This 4,000-word short story is a companion to the Russell's Attic series and takes place in parallel to book 2 (Half Life). The best time in the series to read it is directly following book 2.
---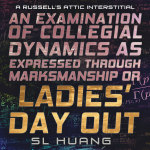 "Ladies' Day Out"
Cas teaches Pilar to shoot. Considering Cas is an acerbic mercenary and Pilar is a delightful admin, this goes about how you'd expect.
This 8,000-word short story is a companion to the Russell's Attic series and takes place between book 2 (Half Life) and book 3 (Root of Unity). The best time in the series to read it is between books 2 and 3 or directly following book 3.
---
(Subscribers — just enter the password when prompted. It was given on the sign up page and will be included in every mailing list email starting with the release of Half Life. If you've lost the password or have any other difficulties, just contact me.)
Other Stories Available for Free Online
For word counts and publication dates, please see my full bibliography.
---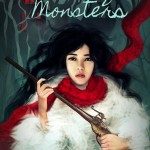 "Hunting Monsters" is available to read at The Book Smugglers
"Happy birthday, child. Careful not to shoot any grundwirgen."
Ever since she was a small girl, she has learned to be careful on the hunt, to recognize the signs that separate regular animals from human-cursed grundwirgen. To harm a grundwirgen is a crime punishable by death by the King's decree — a fatal mistake that her Auntie Rosa and mother have carefully prepared her to avoid.
On her fifteenth birthday, when her mother is arrested and made to stand trial for grundwirgen murder, everything she thought she knew about her family and her past comes crashing down.
Auntie Rosa has always warned her about monsters. Now, she must find and confront them to save her mother, no matter the cost.
First story in the "Hunting Monsters" series. The sequel is "Fighting Demons," below.
---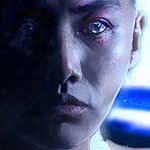 "By Degrees and Dilatory Time" is available to read or listen to at Strange Horizons
Zara's response was the best one, when he told her his diagnosis. "I'm sorry," she said. "I'm sorry we as scientists haven't fixed this yet. That we haven't fucking solved it. We should have a cure." She was so angry. At the world. At her scientific brethren. At human progress.
---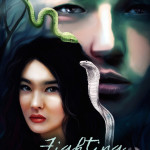 "Fighting Demons" is available to read at The Book Smugglers
My seventeenth birthday, the day I became a woman in the eyes of the law, my mother sat down at the small table in our cottage and said, "It is time."
It has been two years since Rosa fled the west, walking out on Xiao Hong and Mei, breaking their family. Now that the King's men no longer hunt the grundwirgen killer, Xiao Hong's mother makes the hard decision to return to her homeland to find Rosa and make their family whole again. Xiao Hong, still angry and hurt by her Auntie Rosa's secrets and lies, must decide whether or not she will join her mother's quest.
Sequel to "Hunting Monsters."
---

"My Grandmother's Bones" is available to read at Daily Science Fiction
My father was the most haau person I know.
---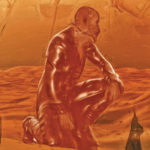 "The Last Robot" is available to read at Nature: Futures; there's also an audio version
Seventy-six years after the world ended, the last robot and the last human met on a windswept plateau.